Not to boast, but we think we produce some of the best coffee available. Of course, it doesn't hurt to farm in a climate that is ideal for cultivating the best coffee trees in the world.
Founded by Cassandra in 2008 and joined by her son David in 2018, Brazen Hazen supplies 100% Kona Coffee to customers around the world. Our family owned farm is located in the heart of Holualoa village, and is rich in history and heritage. From rebuilding ancient footpaths on the property, to supporting local arts, preservation of Hawaiian tradition and culture has always been our focus.
Perched at 1,400 feet on the cool slopes of the Hualalai volcano, the Holualoa Inn Coffee Estate sits in harmony among old growth Kona Coffee and tropical fruit trees, fragrant flower gardens and walking trails. Early Hawaiian footpaths wind through the estate and along green pastures rich with sweet guava and liliko'i. Our farm is planted in the "Kona Style" where trees are grown wherever possible without rows and irrigation. Many of the trees on our farm are 90+ years old. We chose the Honu (Hawaiian Green Sea Turtle) for our label because it has special meaning to our family but also to Hawaiian culture as a symbol of good luck in the form of a guardian spirit, or "Amakua". The Honu represents the navigator, and the eternal link between humans, the land and the sea.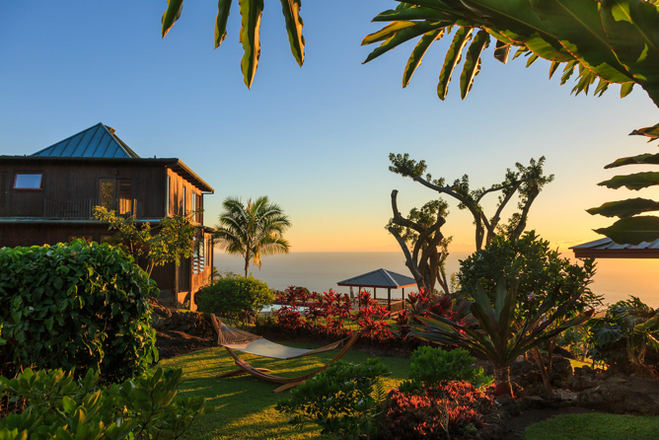 Holualoa Inn Coffee Estate
In the middle of the estate sits our stunning bed & breakfast, The Holualoa Inn. Built in the 1970's, the Inn has been masterfully restored and offers a wonderful feeling of being at home. Designed for indoor-outdoor living, the Great Room features works from local artists, traditional Polynesian furniture, stunning sculptural accents and beautiful garden sights. Guests can take in sweeping views of the Kona coast while enjoying our fresh roasted coffee every morning. Many of our guests become Fresh Brew Club members - still enjoying their connection to Kona once they return home.